Great Time To Shop Devin White
October 26th, 2023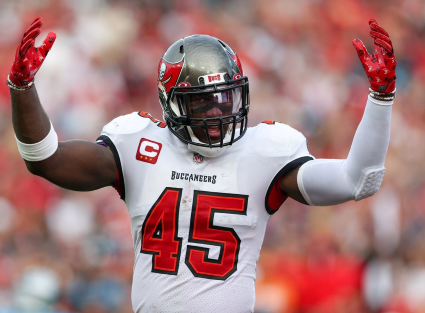 Buccaneers savior linebacker Devin White seems to be significantly past his prime at just 25 years old.
Hey, the guy spoiled Bucs fans in 2020 and 2021. And now he just looks, well, spoiled.
Tonight made it 14 consecutive games for White without a sack, and White is missing the explosion to ball carriers he had in past season (and very early this season). He was drafted to be an elite blitzer and to hunt in the run game. Those aspects of his game have regressed significantly.
If White is hurt, he's not on the injury report. Regardless, what linebacker isn't battling some sort of injury issue by midseason?
White, a first round draft pick in 2019 will be a free agent after this season and he's seeking a massive contract. The trade deadline is Tuesday afternoon.
Joe thinks general manager Jason Licht should start shopping White tomorrow. Perhaps there's a team out there that will cough up a fourth- and fifth-round picks for White?
Once upon a time, Licht traded former first-round pick safety Mark Barron at the trade deadline for fourth- and sixth-round picks.
Head coach Todd Bowles might not like the move, but it might be in the best interest of the franchise. And with White's consistently declining production, Joe can't make a strong argument to keep White if draft capital is on the table.
Those kinds of picks can become quality trade-up ammunition come April.
If Licht can't find a deal, then fine, keep White and let him play out the season.