Fantastic Fight From The Bucs
October 26th, 2023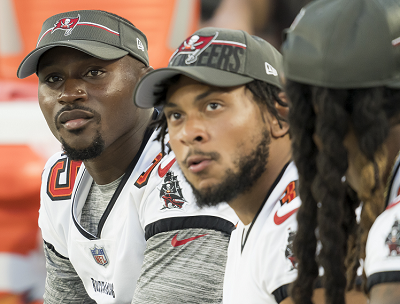 The Bucs may not be a very good club at 3-4, but Joe was highly impressed by the team's fight tonight in Buffalo.
The Bills punted on their final four drives.
And Buffalo wasn't mailing it in with a 24-10 lead.
The Bucs defense could have folded on a Thursday night road game trailing by 14 points with a struggling offense, but the defense kept delivering and gave the Bucs a chance to win. Joe respects that the roster is battling hard for their head coach.
Playing hard is no reason to drink champagne. Joe knows plumbers, roofers and prosecutors bust their asses daily for second-rate pay. Still, many NFL teams have no problem rolling over when things go bad on the road — especially during a losing streak.
That finish gave Joe hope that the Bucs can win three of their next five games and right the pirate ship with a record of 6-6. The slate includes Houston, San Francisco and Indianapolis on the road, and woeful Carolina and Tennessee at home.
There's so much to fix with this Bucs team, but they were still within inches (literally) of winning tonight. That's at least something to cling to rather than crying into your pillow.