Touchdown No. 86 For Mike Evans
October 27th, 2023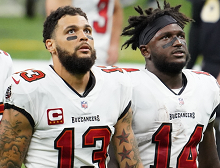 After tonight's Bucs loss in Buffalo, only 16 receivers in NFL history have caught more touchdowns than Mike Evans.
Joe appreciates history and greatness, and Evans is delivering both.
Evans caught his 18th touchdown pass tonight late in the fourth quarter, one that required great focus as the ball deflected off a defender's helmet. It was the 86th TD of Evans' career. He left Hines Ward and Hall of Famers Lance Alworth and Paul Warfield in the rear view mirror at 85.
Evans was rather invisible until the fourth quarter. Joe's not sure how that happens. It's unacceptable. The film won't lie and Joe looks forward to studying it.
Regardless, the greatest receiver in Bucs history is now on pace this season for 85 catches for 1,326 yards and 11 touchdowns. And some fans think he's having a bad year!
Joe appreciates Evans every minute he's on the field. Yeah, even the drops.