Gerald McCoy Talks Bucs Locker Room
October 3rd, 2023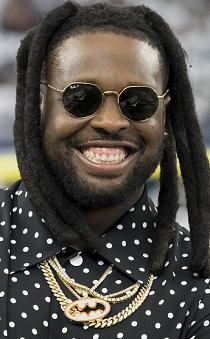 It's best to pay attention when six-time Pro Bowler Gerald McCoy, the retired Bucs defensive tackle, talks about the Buccaneers.
McCoy has close friends in the Tampa Bay locker room and a keen understanding of all things Bucs.
Now a personality on NFL Network, McCoy visited The Rich Eisen Show today and talked about the impact of Baker Mayfield on the Tampa Bay roster. Again, keep in mind McCoy's ties to the club. (He also attended the last Bucs home game where he found himself face-to-face with Joe.)
McCoy told Eisen the Bucs needed Mayfield because of how he approaches the game; he was the guy who answered the question, "Now what?" after Tom Brady.
"[Mayfield's] shown with his belief that's carried throughout the locker room. Now they believe in him," McCoy said. "And they believe, 'Hey, we got a guy that we can believe in. We don't have to worry about it. We're going to do our part; he's going to handle his business.'"
The Mayfield buy-in at One Buc Palace is obvious to Joe, and it runs from coaches down through the bottom of the roster.
McCoy noting that Mayfield answered the "Now what?" question for players really intrigued Joe because of what former Bucs running back LeSean "Shady" McCoy said on FS1 in early July.
Shady was adamant that there was little to no belief in Mayfield among the Bucs' locker room leaders. Shady gave that take while mentioning he had just talked to Devin White.