Aroused Baker Mayfield
October 3rd, 2023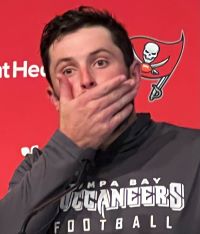 The original version of Chris Godwin mic'd up Sunday is quite different from the one re-published minutes ago on YouTube, via the official Tampa Bay Buccaneers account.
In the version published early today, a naughty exchange was shared between Mayfield and Godwin.
Mayfield is seen approaching Godwin to celebrate a completion against the Saints. Godwin expresses his love for Mayfield's throw while Mayfield simultaneously advises Godwin, "My di*k got hard as soon as I saw him running with the motion."
(Joe presumes Mayfield was referring to a Saints defensive back as opposed to, say, a male volleyball player in a Gulf beaches commercial on the Superdome's JumboTron.)
The account JPAFootball on X (formerly Twitter) shared the clip that has since been scrubbed from the Bucs' YouTube account. The exchange now has more than 1 million views on X.
Joe wonders how Mayfield and his agent will feel about the release of this audio and video, and whether they'll pursue someone to sue because of it.