Saints Trash Talk, "They Said, 'Tom Not Here'"
October 3rd, 2023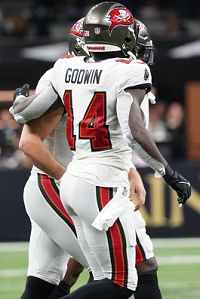 Joe loves the low key anger rumbling through a segment of the Buccaneers roster.
This summer, Carlton Davis gave fans a glimpse of it when he talked about how he and others were sick of the calls for Tampa Bay to be a crap team because Tom Brady retired. "We're going to wreck sh*t," Davis said.
On the sidelines Sunday, Chris Godwin was mic'd up and talking to Buccaneers savior linebacker Devin White.
It was late in the game and Godwin appeared to have his fill of the loudmouth Saints.
"They love to talk all that big (bleeped out)," Godwin said. "They said, 'Tom not here or whatever.' You feel me? … This damn division still goes through us, bro."
Joe gave that rant a standing ovation.
Speaking of Brady, he wasn't talking Bucs during his Monday Let's Go! show on SiriusXM Mad Dog Radio. Joe's going to get pissed soon if the Bucs keep winning and Brady stays quiet on his good friends in pewter and red.