Does The Bucs Defense Help The Bucs Offense?
October 27th, 2023
Yes, the loss last night is frustrating. But Joe cannot sit and wail that the Bucs defense is lousy. Why? Well, here's why:
The Bucs have the second-best red zone defense in the NFL. That usually means opposing offenses don't score that many points. Joe thinks limiting opposing offenses from scoring points is fairly substantial.
Also, the Bucs have the third-most takeaways. For football coaches, it seems sometimes takeaways are more important than air to breathe.
So the fact the Bucs are elite in those two areas, well, Joe cannot say with a straight face the defense sucks.
Could the Bucs defense use some work? Oh, hell yes. In fact, a Bucs insider, Evan Closky of WTSP-TV Channel 10, doesn't believe the current defense is a good match for the Bucs offense.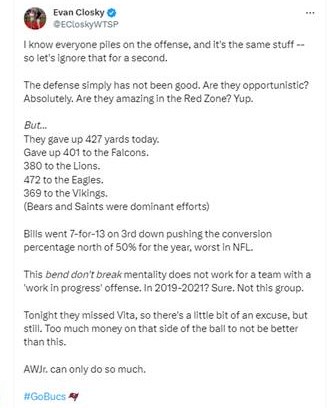 Joe sees Closky working but "this Joe" just cannot get on board with throwing rocks at the defense. (The other Joe waved all the red flags for the defense early this week.)
No matter how you slice it, at the end of the day, it's about points. How many did you score? How many did you give up? So far, the Bucs have only given up more than 20 points in two games, both losses. In one, the Bucs damn near pulled out the win on the final play (last night).
The Bucs defense, while teams are going up and down the field on them (specifically on third downs), has been good at what counts: Keeping other teams out of the end zone.
At the end of the day, that's all that matters. Does the current Bucs defense fit the offense? If we are talking about holding teams to low scores, then yes, it does.