Why Did Mike Evans Approve His Agent Lashing Out?
September 1st, 2023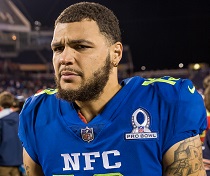 So Mike Evans' agent is on a screaming spree, barking on various mediums that his client wants a new contract extension in less than a week or else.
Joe is far more interested in why Evans approved his agent going scorched earth.
Sure, it's possible that Evans' agent didn't get a green light from his future Hall of Fame client, but most likely he did and it's a little concerning.
Why? Because it doesn't feel like Mike Evans. And if Evans isn't himself, that's probably bad for the Bucs on the field.
Given Evans' status as a Bucs icon, Joe can't imagine Team Glazer would have passed on a classy meeting with Evans for a billionaire-to-baller chat about his future. It sure seems like Evans and his agent didn't go that route.
No matter how anyone tries to spin it, it's Team Glazer's decision on whether Evans stays or goes. And Evans does want to say. Even his bellowing and bloviating agent doesn't deny that.
Team Glazer gutted the team in 2009 after back-to-back 9-7 seasons. They fired legend Derrick Brooks despite knowing he'd be a great gift to a young head coach, Raheem Morris, and a stellar presence for young players.
In hindsight, Joe can't imagine Team Glazer thinks that was a savvy football move, though it did help ownership's wallet.
In today's game, the NFL labor agreement orders teams to spend and it's much harder for clubs to go the cheap route. The Bucs certainly have spent a ton of money in recent years, including massive cash bonuses to allow to allow them to manipulate their salary cap, which handcuffs them today.
Joe thinks the Evans question really comes down to ownership.
Does Team Glazer want to pay market value for an entertaining, legendary player beloved by fans and teammates, or does it want to wave goodbye and try to sell fans that it made a decision in the best interest of the franchise?
Joe knows Bucs opponents will celebrate if the team parts with Evans. Just think of how happy the Bucs are that the Vikings, their opening day opponent, cut Dalvin Cook.