What Is Team Glazer's Role In The Mike Evans Drama?
September 2nd, 2023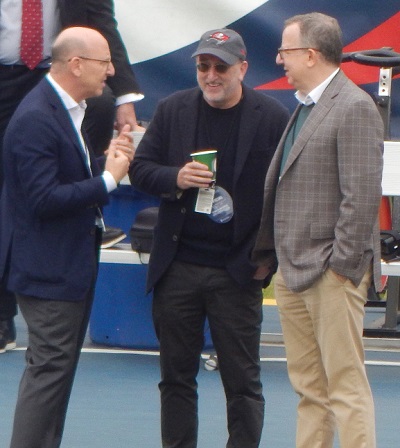 If you dig into the words offered by Mike Evans' agent, Deryk Gilmore, at least on face value it doesn't appear the hangup with Evans' getting re-signed is necessarily because of Bucs AC/DC-loving general manager Jason Licht.
Remember, exactly two weeks ago, Licht told Dan Pompei of The Athletic that, "I can't see Mike playing anywhere else."
So at least it doesn't appear Licht is standing in the way of Evans returning for 2024.
Now at the high-wire-act risk of taking an agent at his word — Joe has nothing personal against agents, he just doesn't trust them because truth, honesty and objective candor with third parties are not considered valuable attributes, virtues or assets in this line of work — Gilmore's statement noted that the Bucs have until a week from today (one day before kickoff) to get a deal done. Or else!
But Gilmore seemed to praise Licht but not so much Team Glazer. Gilmore referred to Licht and his financial right-hand man, Mike Greenberg, as "professional." In the next paragraph, Gilmore wrote "… the ball is now in the owner's [sic] court."
And that, ladies and gentlemen, is Team Glazer.
Is that where the hang-up lies? Joe can only speculate.
Look, it's a reasonable concern for ownership to drop some $50 million (?) guaranteed in a 30-year old receiver. Go research 30-year old receivers. It's very much a mixed bag. Especially when the team in question, the Bucs, is strangled by the salary cap with several young stars on the cusp of wanting to get paid.
At least for Joe, Gilmore's word choices were very interesting.