The Cream Rises
September 10th, 2023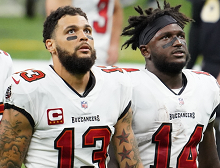 Big-play defense plus Mike Evans and Chris Godwin coming up with Pro Bowl moments today in Minnesota.
That's the way Bucs football should be.
The strength of the Bucs is Evans, Godwin and the playmakers on defense. Joe sure hopes that is always remembered by the guys calling the plays and influencing the offense.
Godwin had a tough low catch to seal the game on 3rd-and-long right after the two-minute warning. The Vikings were out of timeouts and then the Bucs got multiple cracks at victory formation.
Godwin caught 5 of 6 targets for 51 yards. Evans ran the sweet route that lit the spark in a then-floundering Bucs offense late in the first half. The 28-yard touchdown grab launched Evans' 6 catch, 66 yard day (plus a pass interference call against him that somehow wasn't flagged). Evans was targeted 10 times and it could have and should have been more. He appeared to drop a bomb from Baker Mayfield and a short throw.
Godwin and Evans combined for about 41 percent of the Tampa Bay offense.
When the Bucs needed their big guns, they were there. It should be like that all season.