Mistake-Free Football
September 10th, 2023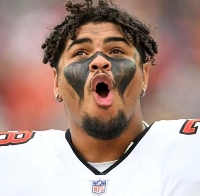 "We were gritty throughout the ballgame," Todd Bowles told the Buccaneers Radio Network after today's thrilling win in Minnesota.
Joe agrees but Joe knows a bigger reason why Bowles thinks the Bucs beat a good team on the road.
Tampa Bay had no turnovers and largely played mistake-free football in a hostile, loud environment. Meanwhile, the Bucs forced two turnovers (thank you, Antoine Winfield and Christian Izien) and pounced on a bad snap for a third. The final score was 3-0 Bucs on the turnover battle.
Bowles, as Joe has written many teams, believes deeply forcing takeaways. But like all coaches, he believes more in mistake-free football. The Bucs weren't perfect today, but they sure did limit mistakes. Tampa Bay had just 3 penalties for 19 yards.
When you have as much talent as the Bucs do, sometimes playing a tight, gritty game is enough to squeak out a "W."