Seamless Transition For Baker Mayfield
September 17th, 2023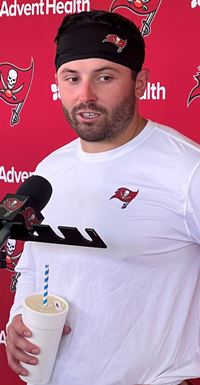 A near perfect preseason was meaningless.
A very solid Week 1 start in hostile territory was very nice.
But now it's official. Baker Mayfield is a comfortable, efficient and effective quarterback in a system that is perhaps perfectly suited for him.
After today's beatdown of the Bears, Mayfield is now 47-of-68 this season (69.1 percent completion rate) for 490 yards and 3 touchdowns — with zero interceptions. And he's taken advantage of running angles.
This is the best season start of Mayfield's career. Joe doesn't believe in NFL coincidences.
It sure looks like the Bucs have at least an average NFL starting QB, and Mayfield might be a little better than that. That's no backhanded compliment from Joe. The Saints are paying top dollar for an average to above average quarterback; they're hard to find.
What makes this Bucs start so exciting for Joe is that the offensive line is still gelling and new playcaller Dave Canales is only beginning to figure out what he has on his roster, and what works best for his QB and talent.
No Bucs fan alive could have asked for a better start from Mayfield. He's thrived. He's avoided costly mistakes. And he's won over the locker room.
Dare Joe say he's won over a lot of fans, too.
Bring on Philadelphia!