Buccaneers 27, Bears 17
September 17th, 2023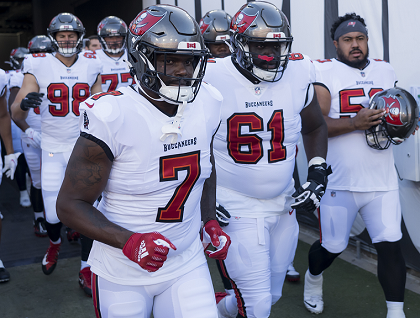 How bout our beloved and undefeated Buccaneers!
Bring on Philadelphia a week from Monday night at The Licht House!
Tampa Bay continued its physical play against the Bears this afternoon. Five Bucs sacks on the first five drives was quite a statement by the defense. Yeah, the first drive was ugly as the Bears marched for a touchdown, but it was lockdown defense from there.
Super-scrambler Bears QB Justin Fields was limited to just three yards on his first three carries before a huge loss on a bumbled snap midway through the fourth quarter.
Defense wasn't perfect, but it's obvious the Bucs have a top-10 quality NFL defense and that's going to be good enough to win a healthy share of games. Shaq Barrett so gloriously finished it off with a pick-6!
Joe was fired up to see Baker Mayfield have 202 yards passing in the first half. That will only add to his confidence and that of the entire offense, which was rather efficient throughout the game.
What can Joe say about Mike Evans. He's an absolute beast, finishing today with 6 catches for 171 yards and a touchdown. Pay the man!
Hats off to Rachaad White for a workmanlike effort that included big first downs in the passing game in the late-fourth-quarter, clock-eating drive. He caught all five of his targets today for 30 yards, and he was 17 for 73 on the ground  (4.3 yards per carry) with a touchdown.
Somebody give punter Jake Camarda a game ball, too!
Stick with Joe and Ira Kaufman all afternoon for plenty out of this glorious victory.