Moving On Jonathan Taylor
September 29th, 2023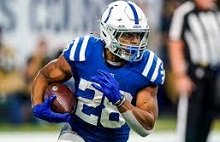 Joe found this especially interesting because it comes from a friend of former Bucs playcaller Byron Leftwich and a guy who knows the Bucs well.
Former Steelers and Florida Gators offensive lineman Max Starks played for Bucco Bruce Arians in Pittsburgh and was a teammate of Leftwich. During Leftwich's tenure as Tampa Bay offensive coordinator, sometimes Starks would reference current communication with Leftwich during Starks' co-hosting duties on SiriusXM NFL Radio.
Starks didn't talk Leftwich this week on the radio, but he did talk about the Bucs' ugly rushing attack.
Rachaad White? Starks is over the Bucs' No. 1 running back and thinks the Bucs should be looking at making a move for disgruntled Colts stud RB Jonathan Taylor.
Taylor hasn't played this season and wants a new contract. The 24-year-old tore up the league two seasons ago as an All-Pro, and he was solid last year on a bad team in limited action because of a two ankle sprains.
Taylor is in the final season of his inexpensive rookie contract but wants a fat deal in the future.
"If I'm the Bucs, I would most definitely [pursue a trade for Taylor] because you can't have this," Starks said of White. "You can't have 2.7 yards per rush for a guy that you're really banking on being more productive regardless of the circumstances."
Starks says the Colts must be more open to trading Taylor now because nearly a quarter of the season is gone (which also means a new team only has to pay three-fourths of Taylor's salary.
Joe thinks it comes down to the organizational mindset at One Buc Palace. If the Bucs go to 3-1 after a thrashing of the Saints on Sunday, and they still can't run the ball effectively, then Joe would expect at least one person in power to spark a conversation about Taylor.
If the Bucs can have that kind of record with no running game, then what would they look like with one?
Plus, if Taylor is acquired and signed, he's a great benefit to whomever is the Tampa Bay quarterback next season.