The Bucs And The Saints' Stunning Streak
September 29th, 2023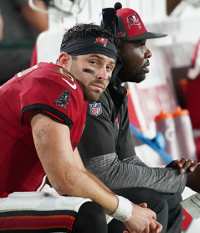 The slimy Saints, Sunday's Bucs opponent, are a strange team.
They feature bad offense despite strong weapons, good special teams, weak quarterback play, a poor head coach, but a stunningly consistent defense approaching an NFL record.
The New Orleans defense has allowed 20 or fewer points in 11 consecutive games. Think about that in the context of the Bucs allowing an average of more than 28 points per game over their final six games last year.
That Saints' streak is the longest active defensive run in the NFL. Also, the Saints haven't allowed a quarterback to throw for 300 yards since 2021.
So should Joe expect the Bucs to score 20 or more points on Sunday? Joe damn sure hopes they do. But this Bucs defense has so many banged up stars, it's hard to imagine them holding any team under 20.
Joe thinks the Tampa Bay offense — and their stellar-so-far kicking game — will have to come through for the Bucs to up their record to 3-1.
If not, well, then maybe Jameis Winston will throw three interceptions to the Bucs like he did in Week 2 last season, a Bucs win in New Orleans.