Groin Issue For Devin White
September 22nd, 2023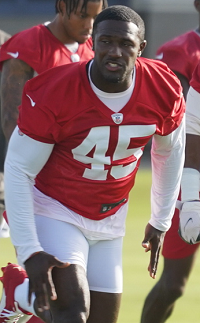 This makes Joe ill, considering the Bucs play a quick turnaround game in New Orleans after Monday night's clash with the Eagles.
Seemingly out of the blue, Buccaneers savior linebacker Devin White appeared on today's official injury report with a groin injury. He was limited in practice.
Joe knows "limited" can mean White sat out 10 minutes, but a groin is a groin. That's not great thing for a guy who relies on explosive movements.
No other big changes to the Bucs' injury report. Carlton Davis remains "limited" with his bad toe. Cody Mauch's back flared up on him and he was limited (remember, he made the report before opening day). Safety Ryan Neal (ribs/knee) was back to full strength. Vita Vea's pectoral injury still has him limited.
Joe expects them all to play Monday night.