Kelce Brothers Laud Todd Bowles Defenses
September 22nd, 2023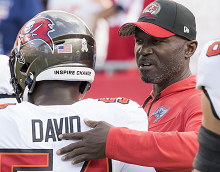 The Bucs have a huge chore on their hands Monday in the form of the Eagles' offensive line.
At the center of that is Jason Kelce, brother of Travis Kelce and member of the annoying Kelce family.
In the glorious 2021 Super Bowl, Lavonte David locked down Travis Kelce en route to a Bucs victory. And 11 months later, Jason Kelce's Eagles were beaten rather easily by the Bucs in the playoffs.
The Kelce brothers were together on their New Heights podcast this week and talked about the defenses of Bucs head coach Todd Bowles. They're both huge admirers.
"You see so many [defensive] coordinators stealing things that they've been doing since his time in Tampa Bay in particular," Jason Kelce said. "And that's the mark when you're that well respected — when other teams are replicating and taking what you're doing and having success with it and implementing within their systems. ..Biggest compliment you can get."
Bowles is a defensive mastermind without question. Of course, there is more in his current job description.
Joe can't wait to see what Bowles has in store for the Eagles on Monday. But games still often come down to blocking and tackling no matter how good a coach may be.
Perhaps that's why the only Buccaneer that Jason Kelce mentioned was Vita Vea?