"Then I Had A Long Talk With The GM"
September 22nd, 2023
BY IRA KAUFMAN
What do you do with a 33-year-old linebacker approaching free agency? You keep him.
That was the determination made by Jason Licht back in March and it's looking like one heck of a wise decision. David may not have had a lot of suitors, but the Bucs could have chosen to let him walk, pairing Devin White with a younger partner on the inside.
That's what you do if you're thinking ahead to the 2024 draft. Instead, Licht was thinking about the NFC South standings and a third consecutive division title.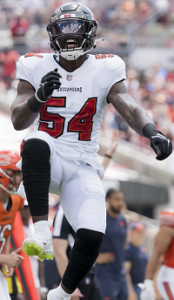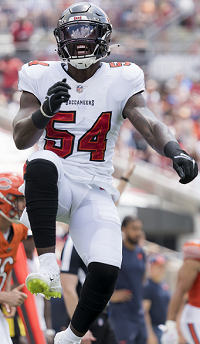 The Bucs are off to a 2-0 start behind a mistake-free attack and a defense that has regained its reputation as a fortress against the run. And while Vita Vea, White, Antoine Winfield Jr. and Christian Izien are playing well, David is usually in the middle of the fray, making secure tackles while exceling in coverage.
It's uncetain whether the Bucs would have beaten the Vikings or the Bears without David's leadership and ability to diagnose plays before the snap. He's the eyes and ears on the field for Todd Bowles, who strongly encouraged Licht to bring David back for a 12th season at One Buc Place.
"Lavonte is one of the greatest and most beloved players in the history of this franchise, so it is extremely  gratifying that he will remain a Buccaneer," Licht said in March after David agreed to a one-year deal. "It's rare for a player to perform at such a high level for so many years in one place."
Bringing David back at age 33 reinforced Licht's contention that Tampa Bay had too many good players to undergo a total rebuilding job.
He called it a reset, and the Eagles are about to discover Monday evening that the Bucs are relevant even without Tom Brady under center.
David is a big part of Tampa Bay's impressive getaway. As the longest-tenured Buccaneer, he sets the standard for younger teammates in terms of how to approach the job. When the 2022 season ended with that humiliating home playoff loss to Dallas, David thought his Buc career might have run its course.
"Then I had a long talk with the GM," David recalls. "He told me a lot of people are saying rebuild, but if it was a rebuild, a lot of the guys would have been gone. He (Licht) said,  'I feel we still have the pieces to make noise in our division.' "
Make no mistake, David remains a key factor, even after 168 games as a pro. He has quietly built a career that should earn him consideration for Canton. In the meantime, he is playing a critical role for the league's No. 2 rush defense behind Philadelphia.
"I just want us to get back to our run-stopping defense," David said this summer. "That takes care of everything else. Last year, we dropped off significantly and that's not like us. We have to get back to the mentality of stopping the run, getting everybody flying to the football and being the aggressive defense we know how to be."
After the offensive challenged Bears marched 90 yards to pull within a FG midway through the fourth quarter last week, it was David who gathered the defensive players and implored: "We're better than that."
We know what happened the rest of the way as Shaq Barrett heeded the call with a clinching pick-6 against Justin Fields.
Doing It All
At the moment, Licht's decision to bring David back for at least one more season looks like a glorious winner. The Bucs will be no worse than .500 at the bye week, with a decent opportunity to be at least 3-1.
David has averaged 8 tackles per game during his NFL career and the Eagles just ran for 259 yards against Minnesota.
While Philadelphia's offensive line has few peers, the Bucs counter with a front 7 anchored by No. 54.
"Lavonte's got instincts," says Bucs inside linebackers coach Larry Foote. "I tell everybody all the time, people always asking about him, he's good at every phase of linebacker play — covering, playing the run, blitzing. He's unique. That's why he's been playing at a high level in this league for so long."