Dave Canales Addresses "Tanking"
September 16th, 2023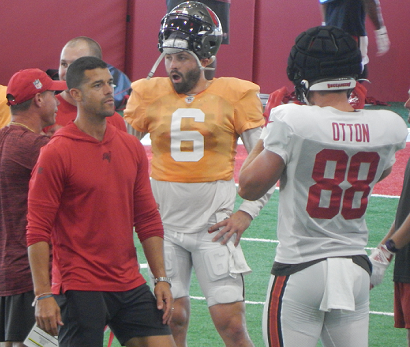 What Bucs fans saw from Tampa Bay on Sunday could have gone a lot differently, says the Buccaneers' new offensive coordinator.
It seems Dave Canales has been around his share of NFL sideline sniping.
But there was none of that early in the game among Bucs offensive players when the offense struggled mightily, Canales explained.
It all comes back to a Day 1 of focus of becoming tough guys at all times.
"We're going to finish plays hard. We're going to finish drives. We're going to finish halves. We're going to finish games — on our terms," Canales said of the philosophy drilled into players.
That chatter is not bravado but about running plays the offense knows best so everyone is ready to be playing fast and physical.
"And that finish mentality is why out of the first five drives of the [Vikings] game we were 3-and-out on four of them, and people could have started tanking and started, you know, spitting comments out and stuff on the sideline," Canales explained.

"But what you saw was a group that just said, 'We knew this could happen. We knew it could start slow. We'll gather the information and then we'll attack'em.' And that's what we did. And the guys stayed together and stayed positive. Not that you're happy about it, but that we just kept working."
Well, Joe gets what Canales is saying, but bringing out the "T" word, aka tanking, seems kind of strong for the first half of Week 1. However, there is sad history that says a team can mentally break down after the first play of the game.
Regardless, Joe loves how Canales had his unit ready to grind on Sunday. They stayed tough and physical and eventually the talent took over. Joe can't ask for much more.