Cam Akers And The Bucs
September 18th, 2023
Sorry, Joe is still not sold on the Bucs' run game. Yet.
Sure, Rachaad White averaged 4.3 yards a carry yesterday. Great. Joe has to see more of this. A lot more. He had an OK game with 73 yards. Let's not polish his Canton bust quite yet.
One good game and one solid game out of 20 doesn't get Joe to pitch a tent. Sorry.
And yesterday the Bucs lost Chase Edmonds to a knee injury. Joe wasn't big on the Edmonds signing but damn if he didn't spark the Bucs' run game when he was on the field. More information on this injury is likely coming when Bucs head coach Todd Bowles speaks this afternoon.
So the Bucs are probably down a running back on a team that wants to run the ball with a running attack that has been, well, blah, through two games.
Well, Joe may have a solution. It seems the Rams are shopping Cam Akers.
That's a red flag right there, Joe will fully admit. A talented running back on his rookie contract is being shopped two games into the 2023 season.
What's wrong?
The fact Akers is on his rookie contract also means he can be had cheap.
Whatever the reason the Rams want to wash their hands of Akers, why not take a (cheap) flyer? Dave Canales' offense is an offshoot of Sean McVay's. Thus, there wouldn't be much of a learning curve.
Joe is confident Baker Mayfield could provide ample intel on Akers since Mayfield was Akers' quarterback last season.
Joe needs to see a lot more consistency from White running before Joe's ready to knight him as the Bucs' bellcow. Sean Tucker has shown very little but because of his offseason heart situation, Joe's willing to give the guy all the rope in the world.
Sneak Vaughn has been inactive in Weeks 1 and 2.
What do the Bucs have to lose? Akers in 2020 and 2022 averaged over four yards a carry. White can't say that.
Beggars can't be choosers.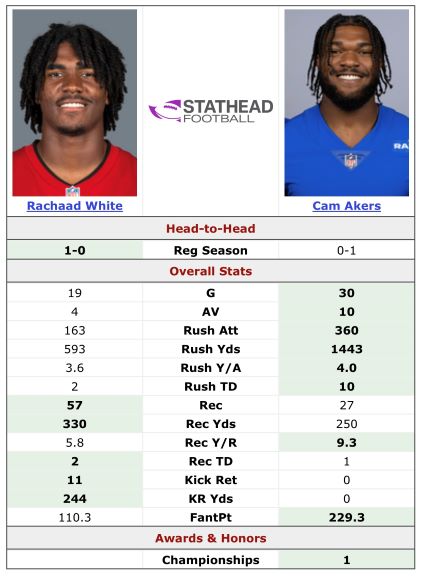 Sources: The #Rams have had trade talks centered around RB Cam Akers. The starter in Week 1 was inactive for Week 2 after a difficult week of practice. Kyren Williams is now the starter, and Akers' spot is up in the air. pic.twitter.com/Mf582EMmeg

— Ian Rapoport (@RapSheet) September 18, 2023