"It Don't Matter Who's Out There"
September 18th, 2023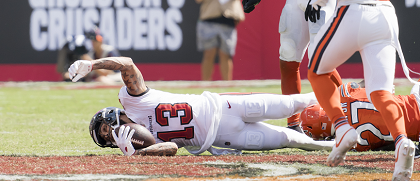 Hall of Famer Calvin Johnson is an example of a superstar receiver who thrived with nothing-special quarterbacks throwing him the ball for a chunk of his career.
Fellow Hall of Fame pass catcher Michael Irvin is in the other camp. He wasn't much when Troy Aikman wasn't throwing him the rock.
Mike Evans, the greatest receiver in Bucs history, is in the special group where Johnson resides. And that was a point of emphasis for former All-Pro cornerback Richard Sherman today on the podcast that bears his name.
"It don't matter who's out there," Sherman said of Evans' quarterbacks through his 10 seasons.
Sherman mentioned Mike Glennon specifically, but the list includes Josh McCown, Jameis Winston and Ryan Fitzpatrick among QBs that have thrown Evans a significant amount of passes. That's quite a journeyman crew. Of course, Tom Brady came after them, but now Evans is thriving with Baker Mayfield.
If Evans can lock down 1,000 yards this season with Mayfield, that means he would have achieved that milestone in 2014 with McCown-Glennon, in 2017 and 2018 with Winston-Fitzpatrick, and with Brady.
That would be four quarterback situations in 10 years.
No, Mr. Sherman, "it don't matter who's out there."
Joe sure hopes the next Evans quarterback isn't C.J. Stroud or Kenny Pickett.