Buccaneers 20, Vikings 17
September 10th, 2023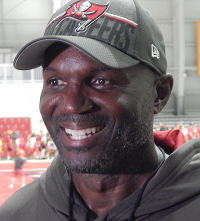 Joe is fired up! The Bucs are undefeated and looking good!
Tom Brady who? Tampa Bay just marched into the Vikings' dome and were the more physical team and proved they're a damn tough club.
How about Todd "Big Balls" Bowles going for it on 4th and 1 deep in his own territory in the fourth quarter.
And "Big Balls" Bowles dialed up a 57 yard field goal soon after rather than relying on his defense that struggled a bit but made big plays all day.
After the Bucs offense struggled mightily in the first half, the offense opened up and settled down once it added tempo and started feeding Mike Evans just before halftime. Baker Mayfield picked up confidence and showed his grit (sorry, Joe hates "moxie") making good decisions and throws and gutsy scrambles.
How bout that huge catch by Chris Godwin to seal the game!
So many heroes on defense. Devin White played a hell of a game, so did Antoine Winfield, Jr. Rookie Christian Izien had a monster interception. Anthony Nelson had a huge series late and a sack earlier.
This win feels so damn good.
Joe hope Peter King chokes on it along with the rest of the national Bucs haters.