Todd Bowles Commits To Equal Snaps, Equal Starts For QBs In First Two Preseason Games
August 8th, 2023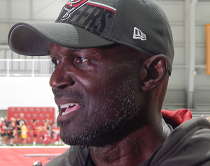 More clarity today from Todd Bowles, though Joe recognizes every NFL situation is fluid and yesterday's truth is sometimes tomorrow's fiction.
The head coach was clear after practice today that whatever QB starts on Friday night for the first edition of real football since January (Joe is drooling in ecstasy), the other QB will not only start the following week against the Jets, but that quarterback will get an equal number of snaps.
Of course, Joe is referring to veteran Baker Mayfield and competing third-year man Kyle Trask.
Joe's not sure why Bowles would make that statement. Suppose Mayfield starts on Friday, pulls a Jameis and throws a pick-6 on his first pass, and then, say, he does it again five throws later on the next drive before giving way to Trask?
Does that mean Trask would only be allowed match Mayfield's snaps a week later at MetLife Stadium?
Or suppose Mayfield lights it up as Friday's starter and there is massive separation between the quarterbacks by the end of the game following, say, Trask looking like he did in past presason games?
Joe gets that the Bucs want to sound like a bunch of late-1990s soccer moms when it comes to keeping a level playing field on the QB competition. However, Joe might feel more excited if Bowles said he would love to see either quarterback play so damn well between now and Preseason Game 2 that the quarterback battle is over before that game kicks off.