"My Love For The Game Overtakes All That"
August 8th, 2023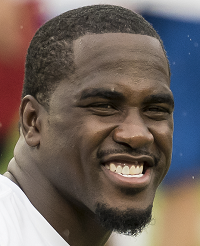 Season No. 12 for Lavonte David means a 12th training camp in the brutal heat and more wear on his body that has endured thousands of hits, including 989 career solo tackles.
Still, David said today that he embraces everything that is summer football, including preseason games that he doesn't need.
"My love for the game overtakes all that," David said, adding that he loves getting to better know teammates and re-learning the defense every year.
And in what might be the greatest sign that his career is nowhere near ending, David said the offseason felt too long this year.
David is the leader among active NFL players in solo tackles, and he's second to Bobby Wagner in total tackles among active players. David also is 20th in the modern era when it comes to total tackles, and he could move to as high as 12th place with a typical David season in 2023.
Keep that love for the game, Lavonte. Joe wants to see your Hall of Fame case get stronger every year.