"I'll Know When It Clicks"
August 8th, 2023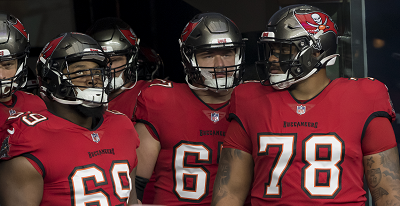 As a seasoned student of offensive line play, Buccaneers defensive guru head coach Todd Bowles said today he'll know when his new O-line has aged like a fine wine — or at least like the potent bottles of Thunderbird that Joe consumed in a brown bag decades ago.
Bowles said he's focused on chemistry-building when it comes to the offensive line.
Joe suspects that's why the Bucs quickly named their first-team offensive line — Tristan Wirfs, Matt Feiler, Ryan Jensen, Cody Mauch and Luke Goedeke, from left to right — and didn't pretend there was competition.
Bowles wanted them unified and functioning as one out of the gate.
"The chemistry just has to keep building and I'll know when it clicks," Bowles said.
The head coach added that he thinks the O-line is "past the halfway" point when it comes to gelling and preseason will be a big next hurdle.
Joe really hopes ferocious Steelers edge rusher T.J. Watt, now healthy, lines up across from Goedeke on Friday. Now that'll be a major test, and a heck of a lot of fun.