On-The-Job Training For Dave Canales
August 11th, 2023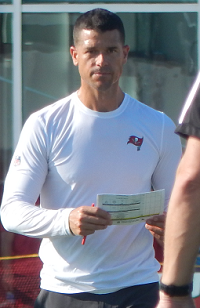 Big night tonight at The Licht House for offensive coordinator Dave Canales.
It's his first game calling plays since his high school coaching days.
Canales reflected on that during his recent visit to the Salty Dogs podcast. He explained that the "call it" periods head coach Todd Bowles set up in training camp were good prep, but a full game will test his mental stamina and really be a challenge.
Typically, those "call it" periods would have been scripted, but to get Canales more comfortable eyeballing his play sheet and barking in calls, chunks of training camp practice were handled in the more freestyle fashion.
Once upon a time in 2009, the Bucs hired an offensive coordinator who literally couldn't call plays, Jeff Jagodzinski. Tampa Bay, of course, didn't realize that until the preseason started. It was unthinkable, but it really happened. He was fired and quarterbacks coach Greg Olson took over the offense in late August.
Joe doesn't expect Canales to be clueless and crumble. But he will have a learning curve — and opening day is in 30 short days.