Gameday Tampa Bay
August 11th, 2023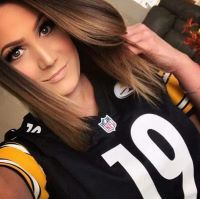 Preseason Game 1
Steelers at Bucs  
Kickoff: 7 p.m.
TV: WFLA Channel 8; NFL Network (Geographic restrictions apply). Game will be rebroadcast on NFL Network Saturday at 7 a.m. and Monday at 1 p.m.
Streaming: NFL+ and Buccaneers.com (Geographic restrictions apply).
Radio: Buccaneers Radio Network WXTB-FM 97.9 in the Tampa-St. Petersburg region (Transmisiones de radio en español en WTMP-FM 96.1 y WMGG-AM 1470 en Tampa). Additional stations throughout Florida on the Buccaneers Radio Network can be found here. The game also will be broadcast on SiriusXM Channel 226 (Buccaneers Radio Network feed).
Weather: Stay hydrated! Stock up on Big Storm Brewing beers as it will be hot. Look for a kickoff temperature of 93 per AccuWeather.com. By the time the game ends, look for the temperature to be 86. Only an 11 percent chance of rain. Yes, this is Big Storm Brewing beer-drinkin' weather. Guzzle accordingly!
Odds: Per BetMGM, as of midnight, Bucs +3; over/under 39.5.
Outlook: All eyes will be on the quarterbacks (aren't they always?) and the puzzle that is the Bucs' regular season starting quarterback. Though world-famous JoeBucsFan.com columnist Ira Kaufman has learned Baker Mayfield will be your Bucs starting quarterback, Joe guesses there is still a chance for Kyle Trask, so long as he plays and practices like Dan Marino the rest of this month. Joe would love to see YaYa Diaby go nuts, but then again Joe remembers Joe Tryon-Shoyinka having a really good game in his first preseason game. That wasn't much of a window into the future, was it? Of course, the Bucs' offensive line, which has question marks up and down each position, is a critical area that warrants monitoring. Nothing like the possibility of T.J. Watt lining up against Luke Goedeke. Like all preseason games, the main goal is that no one gets hurt.