More Bucs Observations From CBS
August 6th, 2023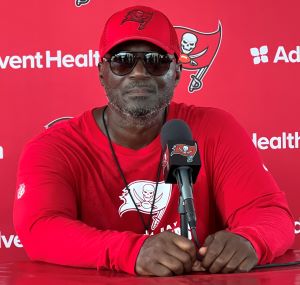 Yes, Joe brought thoughts yesterday on the Bucs from prickly Pete Prisco of CBS who watched two Bucs practices this week, after watching practices earlier this spring.
Here are Prisco's observations and Joe's reaction.
They are faster.
It sure seems that way, specifically the defense. Even with rookie first-round pick Calijah Kancey out, the addition of YaYa's Flame Broiled Chicken Diaby at edge rusher, inside linebacker SirVocea Dennis and undrafted roookie nickel cornerbac Christian Izien have given the Bucs defense a big shot in the arm of athleticism.
QB competition is real.
Yes, it is. Joe doesn't know if that is bad or good. If Kyle Trask is (slightly) ahead of Baker Mayfield, the way Mayfield has just about practiced his way into danger of being the No. 2 quarterback, what are we talking about here?
Right side of line is a concern.
Right now, the defense isn't even tackling despite being in pads. More will be known in the next two weeks when the Bucs face the Steelers in the first worthless preseason game on Friday, then have two controlled scrimmages and a second worthless preseason game with the J-E-T-S Jets… Jets… Jets in New Jersey next week.
Ya-Ya Diaby might be a rookie starter.
Well, Joe will put it this way: Joe has seen Diaby make more splash plays than Joe Tryon-Shoyinka. Not much more, but more.
Shaq Barrett being back is amazing.
Shaq sure looks nimble. Again, Joe is still concerned about Shaq recovering from a blown Achilles and will continue to be freaked out until Shaq can prove Joe's just paranoid.
Winfield back to S is the right move.
Absolutely correct. And Antoine Winfield is just a freaking baller. That's all you need to know.
Some thoughts from Bucs camp: Great mix of young and old on roster. They are faster. QB competition is real. Right side of line is a concern. Ya-Ya Diaby might be a rookie starter. Shaq Barrett being back is amazing. Winfield back to S is the right move.

— Pete Prisco (@PriscoCBS) August 5, 2023