Mike Evans Describes Exciting Chris Godwin Improvement
August 5th, 2023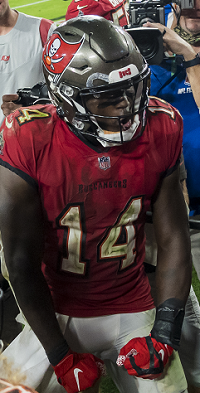 Chris Godwin has had special seasons in his six NFL years, but none greater than his breakout 2019 campaign with America's Quarterback, Jameis Winston, after Bucco Bruce Arians changed his receiver role.
That's when Arians arrived and largely had Godwin playing slot receiver. Not only was he blocking in the trenches, he was busting out for all kinds of yards after the catch and finding seams all over the field.
In just 14 games that year, Godwin racked up 1,333 yards on 86 catches with 9 touchdowns and his first trip to the Pro Bowl.
Last year was a different Godwin as he battled back from offseason knee (ACL) surgery. He caught 104 balls but the explosiveness was lacking.
Mike Evans (the greatest receiver in Bucs history) was a guest on NFL Network today and was asked about Godwin. Evans could have gone in many directions, but he jumped in the time machine back to Godwin's breakout year.
That's what Evans sees now in training camp.
"I mean, he looks like he did in 2019, his All-Pro year," Evans said of Godwin. "I mean he's moving fast and we got him all over the field not just in slot. So I'm looking forward to Chris having a huge year this year.
Joe will fantasize for a moment that 27-year-old Godwin is 100 percent healthy and looking as good as Evans says he is. That means there's not one damn reason why Godwin can't have a huge season alongside Evans, who always has at least a "good" year.
That's a very exciting thought when you combine it with the Bucs playing good defense. And the defense is key.
The Bucs got 2,000-plus yards and 12 touchdowns combined from Evans and Vincent Jackson back in 2014. But they were the worst team in the league because they couldn't run the ball and the defense was historically bad through the first six weeks of the season.
Joe believes the Bucs need at least 2,500 yards and 17 touchdowns combined from Godwin and Evans to win the NFC South this season. And yes, unlike the naysayers across the national media, Joe believes that's in play.