Ronde Barber, Richard Nixon And George Washington-Carver
August 6th, 2023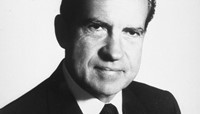 If one isn't careful, Bucs coach Todd Bowles' wonderful sarcasm can scoot right by you.
Yesterday, Bucs legend Rondé Barber was inducted into the Pro Football Hall of Fame. He joined his teammates Warren Sapp, Derrick Brooks and John Lynch, and the original Bucs player, the late great Lee Roy Selmon.
(Hey Ira, is wanting Simeon Rice in Canton too much to ask?)
As he did earlier in the week, Bowles was asked if he educates his players on who Barber is, and his style of play and toughness.
Bowles said, yes, he would love for his players to emulate Barber (Joe thinks Antoine Winfield does a pretty good job of that). However, telling his players about Barber, well, Bowles said for players in the 2020s, telling them about a guy who played a decade or more ago, they just cannot relate. Like Barber is some ghost.
"All aspects of his game translate today: his intelligence, his toughness, his sure tackling, definitely his ball skills and turnover skills," Bowles said. "I think he's had more defensive touchdowns than anybody in the league.

"All of that translates to today's game. Telling the guys about Rondé Barber is like telling them about President Nixon or George Washington-Carver. It's hard for some – they don't go back as far as 2020.

"They would have to Google that and then they'll say, 'Oh, okay.'"
Joe has gone through thousands of Bucs press conferences and heard a lot of things. But never has Joe heard anyone drop the names "Richard Nixon" or "George Washington-Carver,", much less both at the same time!
Hopefully, some guys on the Bucs see Barber's photos on the walls of One Buc Palace and learn about him out of curiosity.