Ira Kaufman Reports Bucs Plan To Start Baker Mayfield In Week 1 Against Minnesota
August 10th, 2023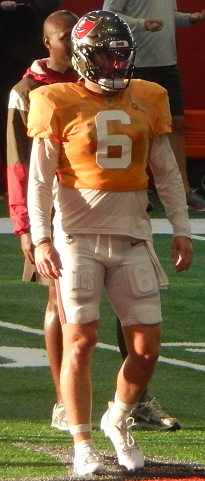 The final whistle may not have blown on the Buccaneers' quarterback competition, but JoeBucsFan.com columnist Ira Kaufman is reporting a Bucs source has told him that Mayfield has a huge lead on Kyle Trask and victory formation for Mayfield is imminent.
Kaufman's report came this afternoon on the podcast that bears his name, now in its eighth season covering all things Bucs year-round.
"About this Trask and Mayfield competition, I was told pointedly and without much doubt, Mayfield's going to be the starter in Minneapolis," Kaufman said. "That's what I was told. With all due respect to Trask, who has had a good training camp and Mayfield's struggled a bit, Mayfield's getting the ball in Minneapolis.

"There's still some people out there that, hey, because Trask might be winning this competition – in quotes – that Bowles has to go with the better man in training camp and preseason. 'What if Trask looks better than Mayfield? Is he not going to go with Trask?' Well, my information is it's probably a lost cause for Kyle Trask. Trask fans are not going to want to hear it. I understand that.

"When it was told to me [that Mayfield would start Week 1] it was said in a definitive manner. There was no equivocation. It wasn't even said, 'Well, depending on it could change in the preseason games; let's see what happens.' No, none of that. It was basically, 'It's Mayfield's job. He's got it. He's going to be the starter against Kirk Cousins and those Vikings.'"
So there it is — from the guy who was a New York Giants beat writer in the 1970s before hopping on the Bucs beat in 1985.
This news shouldn't surprise regular readers here. It started with Todd Bowles calling Mayfield "a natural born leader" back in March, and Joe has long written that Bowles wouldn't put his head coaching career on the line with a third-year quarterback that's never started a professional game — unless Trask overwhelmed the team in training camp with exceptional play.
That hasn't happened.
Today's Ira Kaufman Podcast. Enjoy!