Gameday Tampa Bay
August 19th, 2023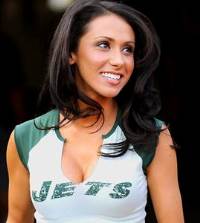 Preseason Game 2
Bucs at Jets  
Kickoff: 7:30p.m.
TV: WFLA Channel 8. Game will be rebroadcast on NFL Network Sunday at 10 a.m. and Monday at 8 p.m.
Streaming: NFL+ and Buccaneers.com (Geographic restrictions apply).
Radio: Buccaneers Radio Network WXTB-FM 97.9 in the Tampa-St. Petersburg region (Transmisiones de radio en español en WTMP-FM 96.1 y WMGG-AM 1470 en Tampa). Additional Buccaneers Radio Network stations can be found here. The game also will be broadcast on SiriusXM Channel 382 (Buccaneers Radio Network feed).
Weather: Really nice weather. Kickoff temperature in the New Jersey Swamplands of about 78, per AccuWeather.com, under mostly sunny skies. By game's end, the temperature will be hovering around 71. Zero chance of precipitation other than the classy Jets fans throwing cold Big Storm beers at folks wearing Bucs gear.
Odds: Per BetMGM, as of midnight, Bucs +4; over/under 36.5.
Outlook: All eyes still will be on the quarterbacks. Kyle Trask is expected to start and Joe is sure that unless Trask plays near perfect football and throws for three touchdowns in the first half, Baker Mayfield will be named starting quarterback in a matter of hours, as world-famous JoeBucsFan.com columnist Ira Kaufman reported nine days ago. Some things Joe would like to see this evening: continued growth from YaYa Diaby rushing the passer (but Yaya's ankle is on the mend and he did not practice this week) and better blocking by the offensive line, specifically run blocking. … And Joe would be happy if rookie receiver Trey Palmer continued to make highlights. His battle for the No. 3 receiver job takes center stage after Russell Gage was lost for the season (knee) on Wednesday. Veteran David Moore led the Bucs in receiving yard last week and Deven Thompkins has flashed his skills. … It's also a big night for the development of rookie nickel cornerback Christian Izien. He's currently the projected starter and could uses these valuable reps. He's also a Rutgers guy from the New York area, so he might be feeling extra pressure. … Whois the Bucs' backup running back? Ke'Shawn Vaughn averaged less than one yard per carry last week and Joe has heard whispers that veteran RB Chase Edmonds is a little dinged up, but nothing major. Rookie RB Sean Tucker? He could get a ton of action tonight. … Much like last week against Pittsburgh, expect a majority of Bucs starters to sit out the game. …Most important, let's stay away from the injury bug.