"Calmer" Todd Bowles Soothing Baker Mayfield
August 11th, 2023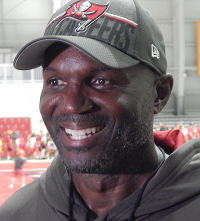 So the pay-per-view site TheAthletic.com sent one of its national writers to Tampa to craft a feature on Baker Mayfield bonding with Todd Bowles.
Joe is not surprised. The Bowles union with Mayfield and the public quarterback competition may be the only thing catching the attention of national media.
Writer Mike Jones got private time with each guy, which led to these quotes.
Bowles referenced his own inner peace and Mayfield is feeding off it.
"I think as a coach, when you stop trying to learn and teach, I think that's when you need to retire, and I don't think I'm done learning or teaching," Bowles said. "I'm a little bit calmer this year. … Although the outside world can't see that, I can feel that for me."

Mayfield has found Bowles' poise both impressive and inspiring. A fiery personality, Mayfield has often relished the role of the villain, hesitating at nothing to clap back at opponents or critics. But as he has matured, Mayfield has sought a more measured approach to life on and off the field. The quarterback believes that Bowles just may rub off on him, particularly during game periods when poise is needed the most.

"His calm nature is definitely good for me to see," Mayfield said. "Just situationally, how calm he is, and knowing that … he's going to control the clock and do all the right things, it's great for us. … It's going to be good for me."
Joe is glad everyone is feeling calm and content, though most fans prefer fire, passion and rage.
What's clear to Joe from Day 1 is that Mayfield and Bowles really like each other. It's not phony or forced.
On most good teams, that QB-head coach relationship is rock solid and genuine.