Did Frustration From Previous Play Lead To Kyle Trask's Interception?
August 13th, 2023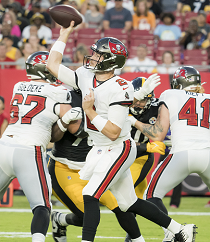 By now, Joe has watched Friday night's Bucs game three times. Hey, there is much to study.
That brings Joe to competing No. 2 quarterback Kyle Trask's ugly interception on his first possession.
Joe is focused on what happened on the previous snap. Trask quickly threw short inside to Kaylon Geiger. The ball was significantly behind Geiger; he caught it and went to the ground for a three-yard loss. Trask showed his frustration by flashing his right arm out to the side and looking in Geiger's direction.
That set up 3rd-and-19 from the Bucs' 38 yard line, which turned into an easy interception for the Steelers over the middle of the field.
It's possible Trask screwed up the throw to Geiger, or Geiger messed up by extending the quick route while Trask threw to the correct spot.
Regardless, Trask seemed rattled for what was only his fifth snap of the game.
Bad look for Trask.