Devin White Addresses Trade Request, Says He Got "A Little Bit Selfish"
August 7th, 2023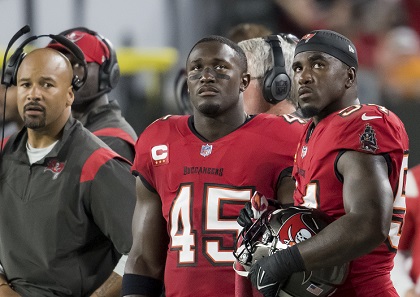 Devin White no longer wants out from the Buccaneers roster, he explained today after practice.
White didn't hesitate — or issue a denial — when asked why he asked for a trade from the team late last winter.
He wanted to be recognized as a forever Buccaneer and still does.
"You know, I just wanted to be the guy here for a long time," White said. "Actually, really just sitting down with Coach Bowles and [general manager] Jason Licht, just understanding their plan for me and what they got in play and just coming up with something with those guys to see how I could be better, moving forward I think we all came to a good agreement and that's why I'm here just focusing on the season now."
What that agreement is, White didn't say. But it probably goes something like 'play like a Pro Bowler and you'll get a fat, five-year deal.'
White said he has no regrets asking for a trade and it was more than just a money grab.
"I don't think it's just about being paid; it's just about being a guy who was drafted here and doing a lot for this program," White said. "I just want to be the long-term guy. You know, I just want to be a guy like Lavonte [David]; he's been here forever. I wanted to be that next guy. And we just didn't make it happen when I wanted it to. And that's where I kind of get a little bit selfish. Even knowing I still had the fifth-year option and that was the thing in play."
White went on to say he loves playing for the Tampa Bay coaching staff, playing in Tampa and appreciates Bucs fans.
It's now obvious the Bucs and White are not working on a new deal and will let the season play out.
How White is tied to Todd Bowles' uncertain Bucs future is unclear.
(For those who missed it, White told Joe last week about how he dedicated more of his life to football this offseason.)