Lavonte David Had No Chance
August 7th, 2023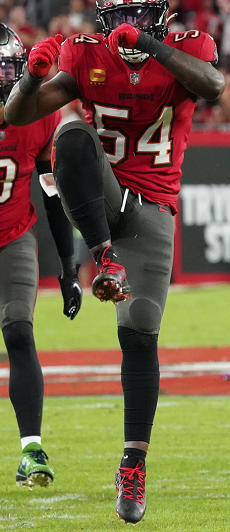 Fun revelation today by Devin White about his NFL big brother.
White was asked about having another year alongside Lavonte David, who was a free agent this offseason and had interest on the market.
White said he did everything he could to trash talk all of David's suitors.
"I mean Lavonte mean the world to me ever since my rookie year," White began. I know every team that wanted him and I was telling him he couldn't go. And I was making it hard on the teams that wanted him. I was just being negative to him. Because I mean, at the end of the day I love playing beside him. Man, he's the best vet that I ever had. He's always made everything around me easier, and I think I've been doing the same for him as well. … "Oh, man. It's a love-love relationship with us, too, man."
The thought of David leaving or retiring is too much for White, he added, noting how he tells David he has three more football years in his 33-year-old body.
Joe loves that David and White tied for the team lead in tackles during the last regular season, with David having a big game in the playoffs and White ending his season quietly.
It's obvious the Bucs' dynamic linebacker duo feeds off each other, and they'll need to in a bigger way this season for the Bucs to repair their run defense and to generate more turnovers.