Rich Eisen: "It's Getting Increasingly Tough" To Believe The Bucs Shouldn't Tank
August 11th, 2023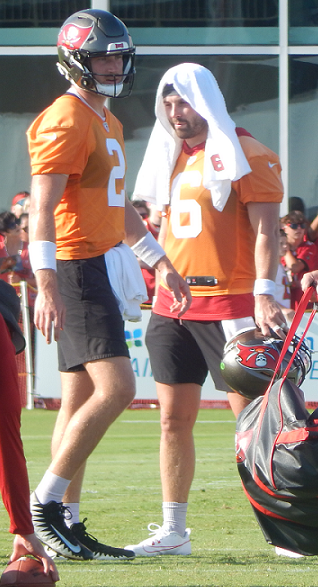 So is it Baker Mayfield or Kyle Trask?
The face of NFL Network, Rich Eisen, admitted this week the more he studies who should be the Bucs starting quarterback, the more he thinks the correct answer is Caleb Williams.
That's how Eisen sees things from his Los Angeles perch speaking on The Rich Eisen Show.
Eisen has read all about Mayfield's picks in training camp, and how Trask has done such a good job protecting the ball (until Wednesday).
Knowing how the thought of turnovers causes defensive-minded head coaches like Todd Bowles to break out in hives, Eisen wondered aloud on his show if Trask wins the battle just because of turnovers.
"That's a major problem," Eisen said of Mayfield's picks. "Coaches don't like it when the ball just even hits the ground in a practice. … If the ball is hitting the ground in 7-on-7 or even 11-on-11 and you're throwing it to your teammates, that's a problem."
One member of Eisen's peanut gallery suggested there cannot be a winner between Mayfield and Trask. Rather, the Bucs should just do the forward-thinking thing and tank for a quarterback in the draft.
Eisen admitted he's torn on what the Bucs should do.
"I keep pushing back [on the suggestion of the Bucs tanking] but it's getting increasingly tough to do that," Eisen said.
Eisen did make a fair point about interceptions in training camp: He said people tend to always blame the quarterback and seldom give the defense props.
How does Eisen think this will all shake out? Eisen believes Bowles likely starts the regular season with Mayfield but with little rope. If the losses mount, it's Kyle Trask time.
If the losses continue, Eisen said, "We go Caleb Williams."
Yes, it's the #NFLPreseason and yes, team depth charts don't mean all that much at this point… BUT #GoBucs listing both Baker and Kyle Trask as co-starters can't be a good sign:#NFL pic.twitter.com/sBcNQEp22V

— Rich Eisen Show (@RichEisenShow) August 8, 2023