Baker Mayfield: Multimillion Dollar Legal Dispute With Family Is Not A Bucs Distraction
August 22nd, 2023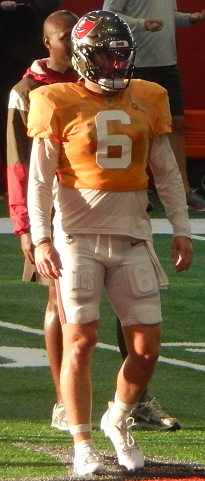 The sad story of Baker Mayfield's missing money is an old one, Mayfield said today after being named Bucs starting quarterback.
The implication was that whatever distraction it was is in the past, despite the situation being made public via a legal filing last week.
Lawyers representing Mayfield and his wife filed a petition in a Texas court requesting information about an alleged misuse of $12 million of their money by an investment firm where Mayfield's family members work, per the report from NBC affiliate KXAN in Austin.
It's a demand for financial records from 2018 to 2023 (Mayfield's NFL years) and for depositions, per the report, so Mayfield and his wife can explore what happened to their funds.
Mayfield's father and brother work for the firm in question, per the Austin American-Statesman newspaper.
"It's be a long time coming for that [court filing,]" Mayfield said today when asked whether it's a football distraction. "Yeah, I've dealing with that stuff for years now. So mentally I'm in a much better head space. So, yeah, we're ready to roll."
Joe feels awful for Mayfield. It's an ugly situation and potentially a harmful distraction to his life as a Bucs quarterback. But it sounds like Mayfield already has written off the money and is at peace with whatever happened — and is just seeking answers and the correct people to sue.