Todd Bowles And Wins
July 20th, 2023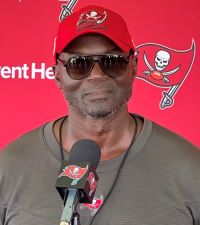 This is to give all members of the Kyle Trask Cult hope.
Reason, logic and facts do not help these people. Trask, to these people, is Dan Marino, Joe Montana, Roger Staubach and Joe Burrow rolled into one.
The man never does anything wrong. Getting blasted by Oklahoma? It's the receivers' fault for quitting on the Gators. Not shining in Bucs practice? It's because those mean coaches won't let him practice with the ones. They're out to get him, you know!
Picks in practice? That's the rotten plays Byron Leftwich called. Or, of course, the quality of backup receivers. Having a quarterback make others around him better? That's not Trask's responsibility, the cultists say. Trask is the most persecuted quarterback this side of, well, Baker Mayfield.
So Joe is here to offer hope to the cult.
If Todd Bowles is safe to return next season, or if Team Glazer has given Bowles assurances he will return as Bucs coach in 2024, Trask just may start.
So is Bowles safe? Frank Schwab of Yahoo! takes a look.
Does Todd Bowles need a winning season?
In Bowles' first full season as a head coach he went 10-6 with the New York Jets. In four seasons as a head coach since he's 22-43 with four losing seasons. … The worst moment for Bowles last season might have been when he mismanaged the end of what proved to be an overtime loss at the Cleveland Browns. The Buccaneers turned over a lot of their coaching staff, and usually when that happens it means the head coach is under some pressure the upcoming season. … He should get some leeway given the transition from the Tom Brady era, However, the NFL is an impatient business.
Mr. Schwab, it's a bit more complex than just "leeway."
For example, let's say the Baker Mayfield Project fails. No big deal. Draft a quarterback in April. Simple. Team Glazer likely would be 110 percent behind that strategy. However, do you want Bowles to develop a rookie? His history with first- and second-day drafted rookie quarterbacks is bad, 0-2.
Also, failure in 2023 would be Bowles' fifth-straight losing season as a head coach. Very, very few coaches survive that. And the less than a handful that did, they didn't exactly flip their franchises into a consistent Super Bowl contender.
(Hall of Fame Cowboys head coach Tom Landry lost his first five seasons in the NFL  He had a 7-7 record in his sixth season and recorded his first winning record in his seventh season, the same year Super Bowl I was played.)
So if Team Glazer gives Bowles a mulligan for the first season of the post-Tom Brady era, Trask has a real shot to start.
But Bowles knows he needs wins, so there's no way a QB with only nine pass attempts starts — unless Trask so outplays Mayfield in training camp and in the two controlled scrimmages with the Jets that Bowles cannot take him off the field.
That's sort of what rookie Russell Wilson did to Matt Flynn with Seattle, despite the Seahawks heavily investing in free agent Flynn.