No More Excuses: The Bucs Must Get After The Quarterback, Or Find Someone Who Can
July 20th, 2023
Joe has a new standard when taking teams seriously as they begin to stoke their annual training camp hype furnace.
Do you have a top-shelf quarterback?
Can you get after the opposing team's quarterback?
If the answer to either question is uncertain by summer's end, then a team isn't serious about winning in the fall.
Statistically speaking, the NFL has come down to two elements that lead to success and winning: quality quarerback play and a pass rush. Missing one of those two elements? A team is basically toast.
Joe has been inhaling Warren Sharp's 2023 Football Preview. Joe has always, always been obsessed with quarterbacks and sacks. Yes, pressures help a lot but sacks are the icing on the cake.
So one thing has been hammered home to Joe while reading Sharp's exhaustive statistical deep-dive on every NFL team. It's all there in black and white: If you don't have a top-shelf quarterback and you can't get after the other team's quarterback, you are just p!ssing in the wind.
The Bucs won the Super Bowl two years ago and were within a cat's whisker of going back a year later.
Last year the Bucs, despite having Tom Brady, had a losing record and were embarrassed in the playoffs by the Cowboys.
Why did this happen? Inconsistent pass rush: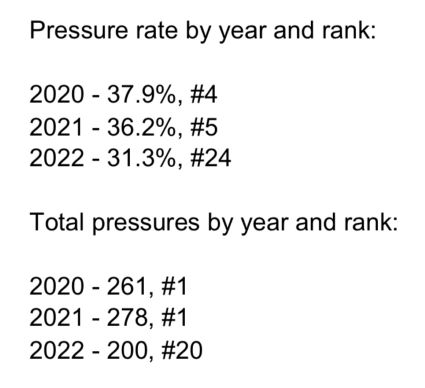 So three years ago when the Bucs won the Super Bowl, Brady was sharp as can be and the Bucs were a top-five team hounding quarterbacks. Same was true the following year.
Last year, the Bucs fell off the map pressuring quarterbacks and ended up with a losing record.
Coincidence between lack of pressures and losing? Joe doesn't believe in coincidences.
Ira Kaufman Talks QB Competition Logistics, Timelines & Veterans Leaning Toward Baker Mayfield, Antoine Winfield Vs. Devin White, And Ira Takes Fan Questions & More