Shaq Barrett Gets Medical Green Light
July 25th, 2023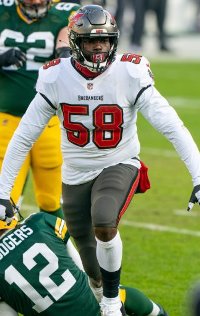 No big surprise here, but the confirmation feels fantastic.
The NFL Network scrolling ticker made Joe a happy Bucs fan tonight. It shared that Bucs sacks king Shaq Barrett passed his physical and will start training camp with his teammates on Wednesday — rather then being stuck on a physically unable to perform list.
Shaq must be so uplifted. It's been a long road after tearing his Achilles in October and then heading under the knife to repair it.
He's now about nine months after surgery, which is a good place to be. Players with torn Achilles often are returning to contact seven or eight months after surgery. So Shaq's timing fits nicely.
Draft-obsessed fans know all about Ravens edge rusher David Ojabo. He tore his Achilles at his college Pro Day in March of 2022, which tanked his draft stock. He was cleared to practice in October of 2022 (seven months after surgery) and was off injured reserve in early November and later had a strip-sack of Joe Burrow.
Yes, Shaq is 30 years old and Ojabo is 23. Joe doesn't know if age is a healing factor with an Achilles, but Shaq's hardly an old man.
Perhaps the Bucs will work Shaq in slowly, but the great news is that they'll get a complete feel of where Shaq is in his recovery before opening day. That's a lot better than throwing Shaq into live action to figure out if he can still be effective.