"Our Guys Are Our Guys"
July 23rd, 2023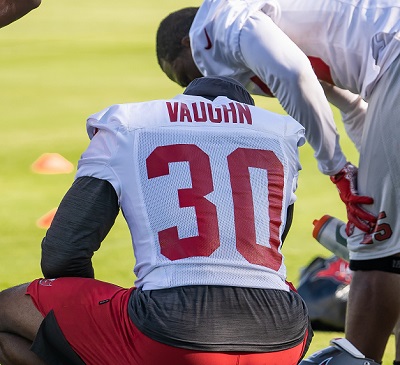 One of the great Bucs philosophers of the 21st century used to spit out the quote in the headline.
Joe is referring to one of the Tampa Bay head coaches during The Lost Decade of Buccaneers football, Dirk Koetter (2016-2018). "Our guys are our guys" was Koetter's way of saying that he loves every damn player on the roster because they're on the roster. If you don't think your own guys are good, then there's a serious problem on multiple levels.
Koetter's Bucs receiving corps included guys like Freddie Martino, Bernard Reedy, malcontent DeSean Jackson, and "The Stampeder," Donteaa Dye, but Koetter always publicly embraced every one as "his guys."
Joe hears a lot of that in new Bucs offensive coordinator Dave Canales. Name a guy and Canales appreciates what the guy can deliver. He's confident.
O-line? Loves'em. Quarterback? Two talented options. Running back? Rachaad White has "cool hidden power" and unleash Ke'Shawn Vaughn.
Yes, Canales went there with Vaughn during his chat with the 2B's In A Pod podcast.
"I think that one of the cool parts is Ke'Shawn Vaughn. We call him 'Sneak.' He's our [No.] 2 [running back] and he's a fantastic runner," Canales said. "Just quick feet in the hole, sturdy build, and like he's just got a real natural feel for it."
Joe's excited for Vaughn, who got hosed last season by Byron Leftwich and Todd Bowles.
Vaughn had 17 carries and a touchdown in the Bucs' playoff win against the Eagles in 2021; he had 17 carries all of last season.
Lots of great energy and optimism at One Buc Palace. It's the hope time of year at every training camp. Joe certainly hopes the good vibes continue after facing angry Steelers, Jets and Ravens defense in preseason.
Joe remembers preseasons past when panic set in early.