Money On Antoine Winfield's Mind
July 14th, 2023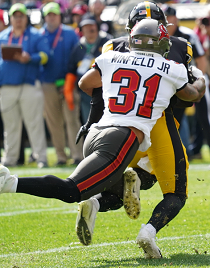 Joe loves when players talk about wanting to score a fat bag of a contract.
Most NFL players avoid referencing money, but Joe thinks that's a little silly. Those same guys usually are quick to say the NFL is a business. Just loosen up and talk about it.
Last summer, the Bucs had two cornerbacks entering their contract seasons: Jamel Dean and Sean Murphy-Bunting. Dean openly talked about wanting to break the bank and being motivated by money. Murphy-Bunting wanted no part of contract talk.
Now, Pro Bowl Bucs safety Antoine Winfield, Jr. is entering his contract year. And Winfield comfortably referenced his upcoming money season during his recent visit to The Richard Sherman Podcast, noting he's dialed in on a big payday.
"I gotta get my interceptions up. You know, it's a contract year," Winfield said. "I'm happy. I'm excited. So making sure I touch that ball and stay healthy, those are the two big goals: create takeaways and just staying healthy, for real."
Winfield added that he thinks the Bucs have the talent to be the NFL's best defense and that's another one of his goals — for the unit to finish 2023 with the league's No. 1 ranking.
Joe doesn't see the Bucs as having top-dog defense ability, but certainly top-10.
Winfield said he has no injuries standing in his way, for now.
"My body's feeling amazing," he said. "I don't know how it's going to feel in a month or two (laughs)."