Antoine Winfield, Jr. Thinks Buccaneers Are Pursuing Tom Brady
July 14th, 2023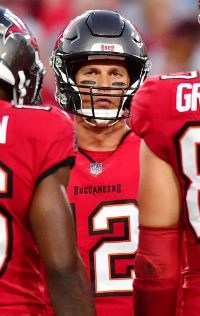 Perhaps this is why the Bucs bizarrely closed their first 2023 three training camp practices to all fans.
Could it be that the team wants to avoid total chaos at practice in case Tom Brady makes a surprise return?
Bucs safety Antoine Winfield, Jr. thinks a Brady return to Tampa Bay remains possible, so he said on The Richard Sherman Podcast this week.
"I'm sure we're still reaching out to him trying to see if he's trying to come back to the team," Winfield said of Bucs management. "Hey, it could happen. Anything's possible."
Sherman, the former Bucs, 49ers and Seahawks cornerback agreed and said, "Look, I don't put nothing past [Brady]. This is a crazy world and he a crazy guy. …" Winfield replied, "It's up in the air, man."
Joe can be sure the Brady commentary from Winfield certainly was not the Bucs' company line. But interestingly, Winfield did emphasizee the company line on the Baker Mayfield-Kyle Trask competition at quarterback. "It's really 50-50 between those two guys." Later in the interview he used "50-50" to describe it again.