Lavonte David: Baker Mayfield Is Great For Our Locker Room
July 15th, 2023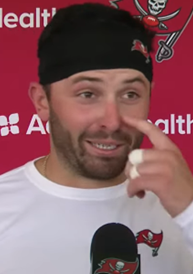 It seems like the Buccaneers really love their highly experienced new quarterback.
Yes, yes, there's a quarterback competition between third-year Bucs QB Kyle Trask and newcomer Baker Mayfield for the starting job. Joe sees it as a 100 meter dash with Mayfield starting at the 70 meter mark and Trask at the starting block, but it's still a competition.
Iconic Bucs linebacker Lavonte David was talking about the starting quarterback duel yesterday on SiriusXM NFL Radio with co-hosts Alex Marvez and retired running back Robert Turbin. David had a little to say about Trask and a lot to say about Mayfield.
"Obviously, Baker already he's been 'the guy' and, you know, he's expected to live up to what everybody expected him to be," David said. "Baker is great for our locker room. I like the way Baker carries himself coming in with a ready-to-work mentality. Everybody loves him already and the way he approaches practice is great to see. So there's definitely some great things to see out of Baker. He's a guy who's done it before — took his team to the playoffs and done some great things so far. So the competition with those guys is going to be very, very competitive and I'm glad to be a part of it.

"…During minicamp it was really fun to see, man, those guys are really having fun with it and they're helping each other throughout the way. So that's definitely something I love to see, as well."
David praised Trask for being "able to take in the offense and be able to, you know, kind of like lead guys and stuff like that."
David also said he knows what Trask can do but didn't offer specifics.