Jason Licht Assumes Devin White Will Practice
July 25th, 2023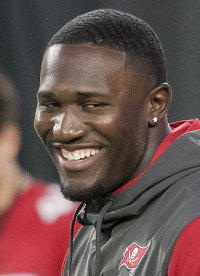 Sort of a strange take today from Buccaneers general manager Jason Licht.
Licht said disgruntled linebacker Devin White reported for duty with veterans today and Licht expects him to do whatever he has to do to make sure he's ready to play on opening day to the best of his ability. But Licht, when asked, wouldn't say whether White will practice tomorrow when the Bucs hit the field.
He said he assumes White will practice. Odd. Joe suspects Licht knows other players will practice.
Licht added that there's tons of love at One Buc Palace for White; Licht did not say White is a super happy camper.
Joe's just glad White is in the building and seemingly ready to play. The Bucs defense takes a major step back without him. If White misses a game, opposing offensive coordinators smile.
Also, head coach Todd Bowles said this morning he's not sure whether White will hold-in and not practice, but White is at One Buc Palace.
"He's under contract," Bowles said. "We don't worry about next year. We worry about this year. … We'll see when he comes out tomorrow.
"I haven't talked to him. I can't sit here and say, 'I talked to Devin and he said… ' I can't speak for anybody."