Fans Dig In On Bucs Quarterback Preference
July 19th, 2023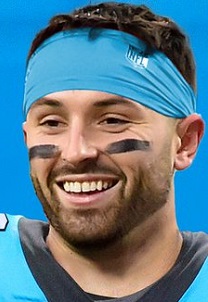 Joe loves polling fans here and especially comparing results over time.
A poll popped here in April and the same one arrived this week.
Back in April, Joe asked Bucs fans, "Who Do You Want To Be The Bucs' Opening Day Starter At Quarterback?" Baker Mayfield got 56.12 percent of the vote. Kyle Trask pulled in 22.85 percent.
This week, Joe hit fans with the same question and Mayfield got 63.21 percent of the vote while Trask hauled in 26.09 percent.
(Keep in mind Joe only opens polls for 60 to 180 minutes. Joe finds this gives a more honest snapshot of fan preferences, and it helps deter any effort of a fan or Bucs official to galvanize blocks of voters — or to order IT professionals to infiltrate.)
Joe is not going to go all Zogby here, but those poll numbers represent a very small shift in fan sentiment. Trask has a viable mob of supporters and Mayfield is the leader but has not won over the fan base after three-plus months of hype.
Joe wonders if the QB competition has anything to do with Team Glazer locking the training camp doors to all fans for the first three practices of the summer, with only media allowed in?
Probably not, but Joe always is looking for motives when it comes to unconventional behavior that makes little sense.
The QB competition gets into high gear when the Bucs hit the practice field next Wednesday morning.