"Emotion And Passion And Even Anger"
July 13th, 2023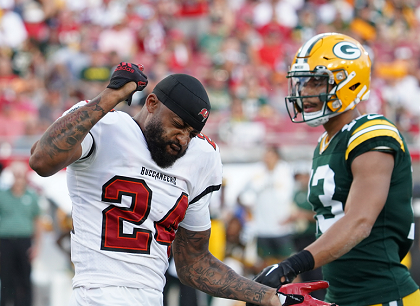 The GoLongTD.com feature on Bucs cornerback Carlton Davis last week made major national waves, but Joe was seeking more insight into how Davis delivered his message.
Now Joe has it.
The feature writer/reporter Tyler Dunne sat down on his own podcast to reflect on the story.
"There was emotion and passion and even anger in how Carlton Davis delivered what he said," Dunne shared.
That struck Joe because Davis is a very chill dude. It struck Dunne, as well.
"I really think his rhetoric means something and has substance to it," Dunne said. "This isn't somebody just shooting from the hip. This isn't somebody that really wants to be in the headlines. I didn't really get that sense from Carlton Davis that like he is one of those cornerbacks who wants to run his mouth and make himself out to be a caricature or a cartoon."
Dunne reminded listeners that it was "a deeper story than ripping on Tom Brady leaving, but Davis was very passionate about the Bucs not turning into a bad team just because Brady left.
(JoeBucsFan.com columnist Ira Kaufman believes Davis, in part, was expressing the entire defense's frustration with the Bucs' sad offense under Brady last season.)
Dunne added that Davis spoke of the "rude awakening" coming to teams who think the Bucs are toast because Brady left and the team is in a bit of a transition.
The Davis message isn't resonating in Vegas, but Joe is on board. There's no logic in thinking the Bucs offense should be worse this season than the miserable 18 points per game it tallied last year, and the defense should be at least as good and likely better.