Chris Godwin's Favorite Post-College Purchase
July 8th, 2023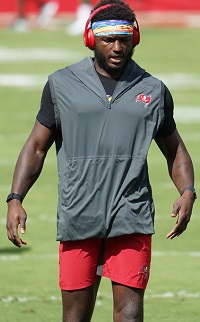 This one surprised Joe, and it probably would most Bucs fans.
Stud receiver Chris Godwin was the 2022 Tampa Bay recipient of the annual Ed Block Courage Award, which honors NFL team role models of inspiration, sportsmanship, and courage. Each team has its own vote to pick one winner.
No surprise that Godwin won.
And in honor of that "W," Godwin sat down for an interview with the Ed Block Courage Award Foundation.
One eye-opening nugget emerged when Godwin was asked to name his favorite purchase after making it to the NFL. Many players might say a first car or a home for their parents, or a dream vacation. Godwin? He went with Lasik surgery to correct his vision.
Godwin explained that he "kind of had like blurry vision" through most high school and just thought that was how everyone saw the world. He noted that he was committed with a scholarship to Penn State before he corrected his vision with contact lenses.
Those lenses were a challenge to keep clean while playing football, Godwin said, so he was eager to spend rookie cash to fix his eyes. Godwin said he went from about 20-70 vision to 20-20.
Classic Godwin. That story fits with why former Bucs quarterback Ryan Fitzpatrick calls Godwin the most unique rookie receiver he's ever been around.