Bucs Roster Gets Ugly Ranking
July 4th, 2023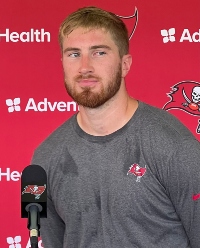 Man oh man, the statheads really hate Bucs quarterbacks.
No, Joe is not referring to the PFF tribe or BSPN's Numbers Guys, either.
Last week, Joe brought word that BSPN's Numbers Guys, Mike Clay, a spreadsheeter, and Seth Walder, a guy who never met a number he didn't like, were so down on Kyler Traskfield that they ranked the Bucs roster at No. 27, sixth-worst in the NFL.
It wasn't that they thought the Bucs' roster was that awful, it was that Traskfield dragged the Bucs down so much. After all, it is a quarterback league.
Many of Joe's readers were appalled. Well, brace yourself, it gets worse.
Over at Sharp Football Analysis, Raymond Summerlin is so triggered by Traskfield, he ranked the Bucs roster third-worst in the NFL. And Summerlin confessed the roster as a whole isn't that bad. But Traskfield is so lousy the Bucs ought to be in the Caleb Williams sweepstakes come January (#CollaspseForCaleb).
30. Tampa Bay Buccaneers

Tampa's roster is better than this ranking, but the quarterback situation is impossible to overlook. Baker Mayfield was one of the worst quarterbacks in the league last season, even in his "better" run with the Rams. Maybe Kyle Trask steps up and seizes the opportunity, but that feels like more of a wish than an expectation.
It seems the statheads are indirectly planning a vigil to witness Todd Bowles' final weeks as an NFL head coach.